Don L. DeVoe
Professor of Mechanical Engineering
Associate Chair of Research
Dept. of Mechanical Engineering
University of Maryland, College Park
5226 A. James Clark Hall
301-405-8125
ddev@umd.edu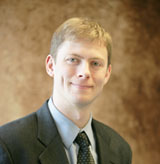 Research
Dr. DeVoe's research group develops and applies microscale and nanoscale fabrication technologies to realize new components, devices, and systems for use in the biomedical sciences, with a particular emphasis on microfluidic systems for bioanalytics and biosynthesis.
Using techniques including microscale thermoplastic replication methods, silicon and piezoelectric MEMS fabrication, nanoscale 3D printing, and soft lithography, research in the DeVoe lab spans interdisciplinary topics such as multidimensional bioseparations, biological ion channel platforms, multiplexed microfluidic immunoassays, droplet microfluidics, and microrobotics for medical applications.
Current research interests include microfluidic synthesis of cancer nanovaccines, microdroplet technologies for synthetic biology, ultrasonic micromotors for vascular imaging, and disposable multiplexed nucleic acid diagnostics.
Courses
ENME 489B - Mechatronics and the Internet of Things